Process Design
UX Design & Development
When I joined the handbags team at Fossil, our team was short-staffed and struggling to learn a new product lifecycle management system.The team couldn't keep pace with the work. To overcome this deficit, I strategized, designed, and built a tool to streamline our workflow, freeing designers to spend more time creating.
Problem
The Fossil team used a PLM system to communicate materials to overseas factories for a complex line of products. This system relied heavily on entering data manually. This was time-consuming and error-prone, leading to waste in the sampling process.
Solution
I designed and created a tool that automated much of the data entry by linking information in a way that aligned with how the users actually thought about designing leather products. This tool also integrated with the existing PLM system.
The tool eliminated a week of work in the typical sampling cycle and reduced manual entries by 50%. It is now used to manage all women's leathers products at Fossil: a multi-million dollar business. The products it touches, from handbags and wallets to belts and keychains, are sold around the world.
---
The Process
Research
I interviewed users across multiple teams, including design, production, and material sourcing, who were involved in developing leather products. I aimed to understand their roles, goals, and frustrations with using the PLM system to communicate. I created user flows and charts to map how information flowed between these teams in a typical development cycle.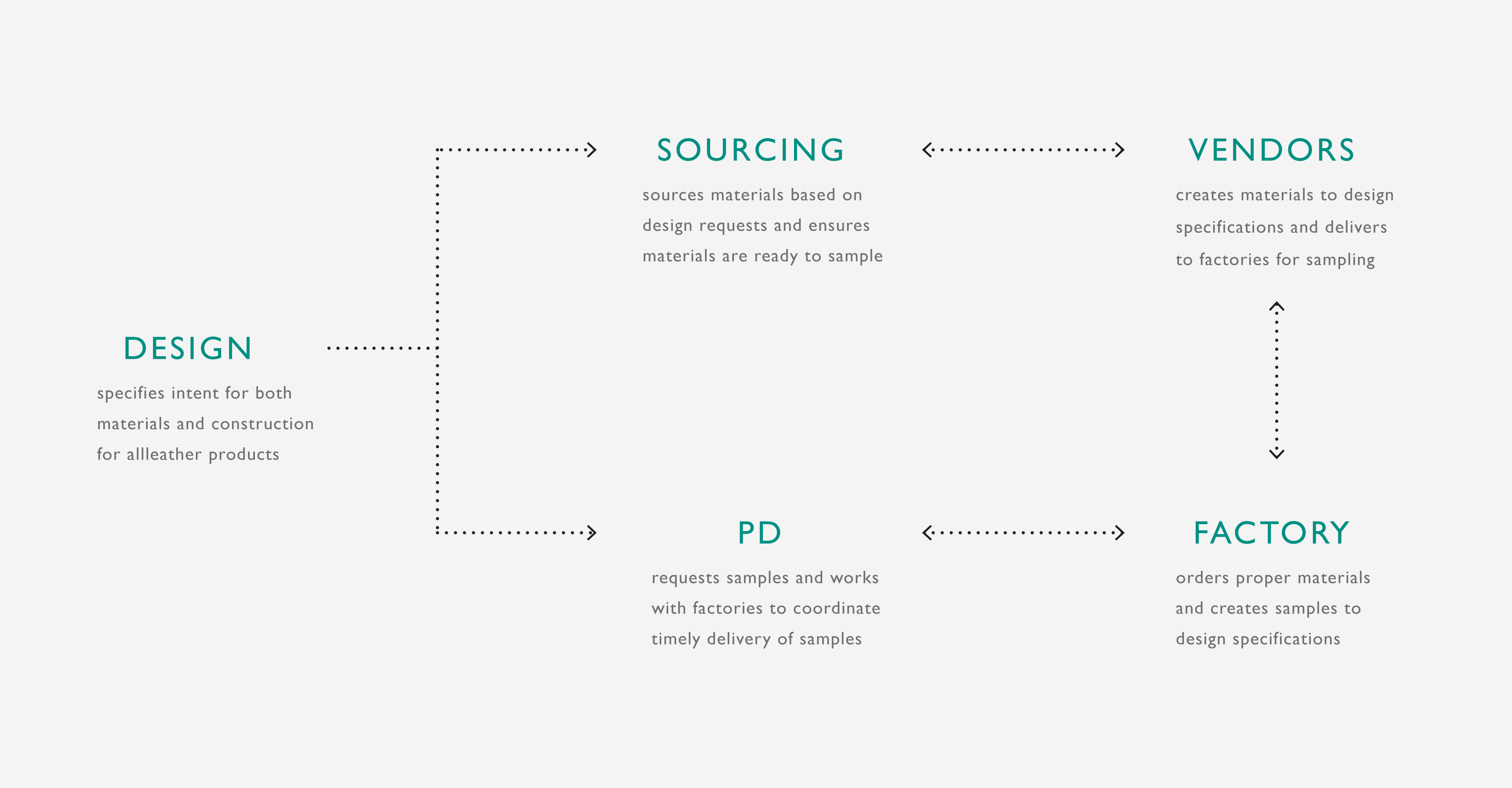 Information Architecture
I investigated the relationships between products and their component parts. How did the product designers make decisions? I observed that designers first selected a leather, and then correlating details, like zippers or thread. I noted these hierarchies and charted the many relationships and concept models that influenced design decision-making.
Design
I crafted a tool to link related components together. A designer would now select a color, and the tool would supply the appropriate codes for correlating components. It would also generate search terms that could be processed by the PLM system, automating many steps in the workflow.


Testing & Buy-IN
To convince users to adopt the tool, I demonstrated how it would save time, and my peers hopped on board. I asked for feedback to learn about problems they encountered as they worked, and I devised updates to fix them. After finishing this project, directors began to consult me on best practices in our process, based on my ability to understand both the intricacies of our PLM system and our users' needs. Beyond this tool, I also standardized and outlined our workflow to streamline communication with factories based on different teams' needs.